Trying Human Wiki is a community site that anyone can contribute to. Discover, share and add your knowledge!
Trending articles
Popular categories
View full main page
★ Welcome to the Trying Human Wiki! ★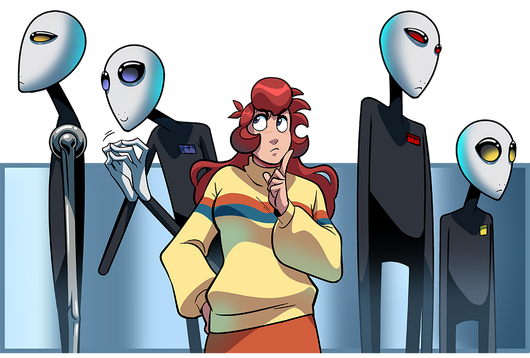 First published on June 1st, 2008, Trying Human is a sci-fi/romance webcomic series created, written and illustrated by Emy Bitner. Trying Human follows the interweaving experiences of Rose Marie Williams, a modern-day receptionist in New York City and Phillis Lennox, a 1947 military translator, as their lives are suddenly transformed by the revealment of extraterrestrial life. As they become slowly entangled into the web of Government secrecy and alien - filled conspiracy - while meeting a whole menagerie of alien life along the way - their lives start to converge as the two women try to figure it all out with over half a century between them. Much of Trying Human's story, characters and events are directly influenced and inspired by traditional Ufology lore.
As Trying Human will eventually comprise of thirty-two chapters within eight volumes - and features a large cast over a long period - the aim of this Wiki is to be an inclusive, clear and accessible point of reference for new, returning and long-time fans alike.
★ This Wiki contains spoilers up to the most recent updates of Trying Human. Browse at your own discretion! ★
Trying Human regularly updates on the website every Tuesday and is part of Hiveworks Comics. As of July 2020, Trying Human is currently on Volume 6. There are four chapters to a volume, and each chapter is split between Phillis' experiences at the Nellis Air force Base, and the modern-day. After the main storyline of Trying Human, Emy has suggested the possibility of further expanding the series with short companion pieces called Side Stories.
Since 2011, Emy has been redeveloping the older volumes of Trying Human in preparation for self - publication, and as of July 2020 the first three volumes have been completed:
Volume 4's redevelopment is currently in progress. Fans can follow Emy's work on the Trying Human: First Tries archive, where you are able to appreciate the webcomic's extensive art transformation since the initial 2008 release!
Content Warning for Trying Human Trying Human is intended for a Teen/Young Adult audience, and as such contains deceptions of Alien abduction and experimentation, nudity, death and mutilation, vulgar/offensive language, gun violence, corruption, sexual assault and drug and alcohol use. Neither Trying Human, nor this Wiki, will use page-by-page trigger warnings so, please proceed reading with caution!
Under Construction!
As you can see, it's a little dusty around here. We're still adding tons of information and organizing all the pages so please bear with us while everything is beautified.